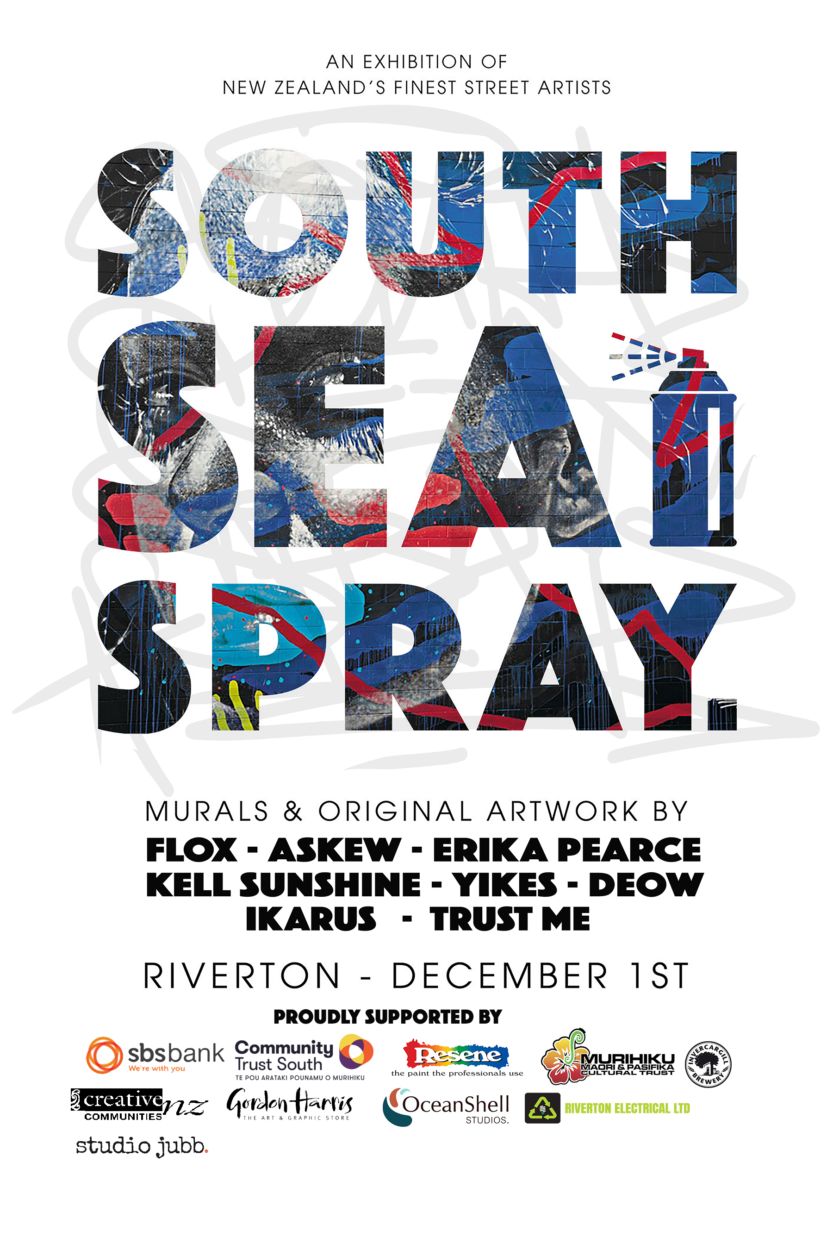 Date/Time
Date(s) - 27/11/2018 - 31/01/2019
9:00 am - 4:30 pm
Location
Riverton Vault
Categories No Categories
"South Sea Spray"
RIVERTON NEW ZEALAND 2018
An Exhibition of New Zealand's Finest Art/ Street Artists
South Sea Spray presents a selection of 8 prolific New Zealand Artist.
Each Artist will paint a large mural in Riverton New Zealand and showcase their art work at an exhibition.
Each of the prolific artists will exhibit 5 paintings of their original artworks in an installation for the public.
The exhibition will be held at Vault Gallery Riverton with an artists and sponsors private opening Friday 30th of November.
The exhibition will open to public December 1st 2018
The show will run through the duration of December – January and will create a huge public draw to Riverton over the summer months.
Vault gallery hosts the ideal central location for the murals being painted in the area of Riverton. It also has one the lowest commission rates in the country which is a huge incentive for the guest artists who are traveling from afar to display and make their artwork accessible to the Southland community.
This is a great opportunity for Southland to have access to public art at such a high quality. It is also a great chance to create some mentorship for local youth to participate in the preparation and finishing of the artwork and help give them a sense of belonging and pride within that artwork and community.
From the 7-8 murals completed, there will be a Peoples Choice Award – which the winning artist will receive a $10,000 commission from an Invercargill business who wishes to remain anonymous.
Artists will fly in to Invercargill and start work on their murals Tuesday 27th of November and will be painting till December 1st