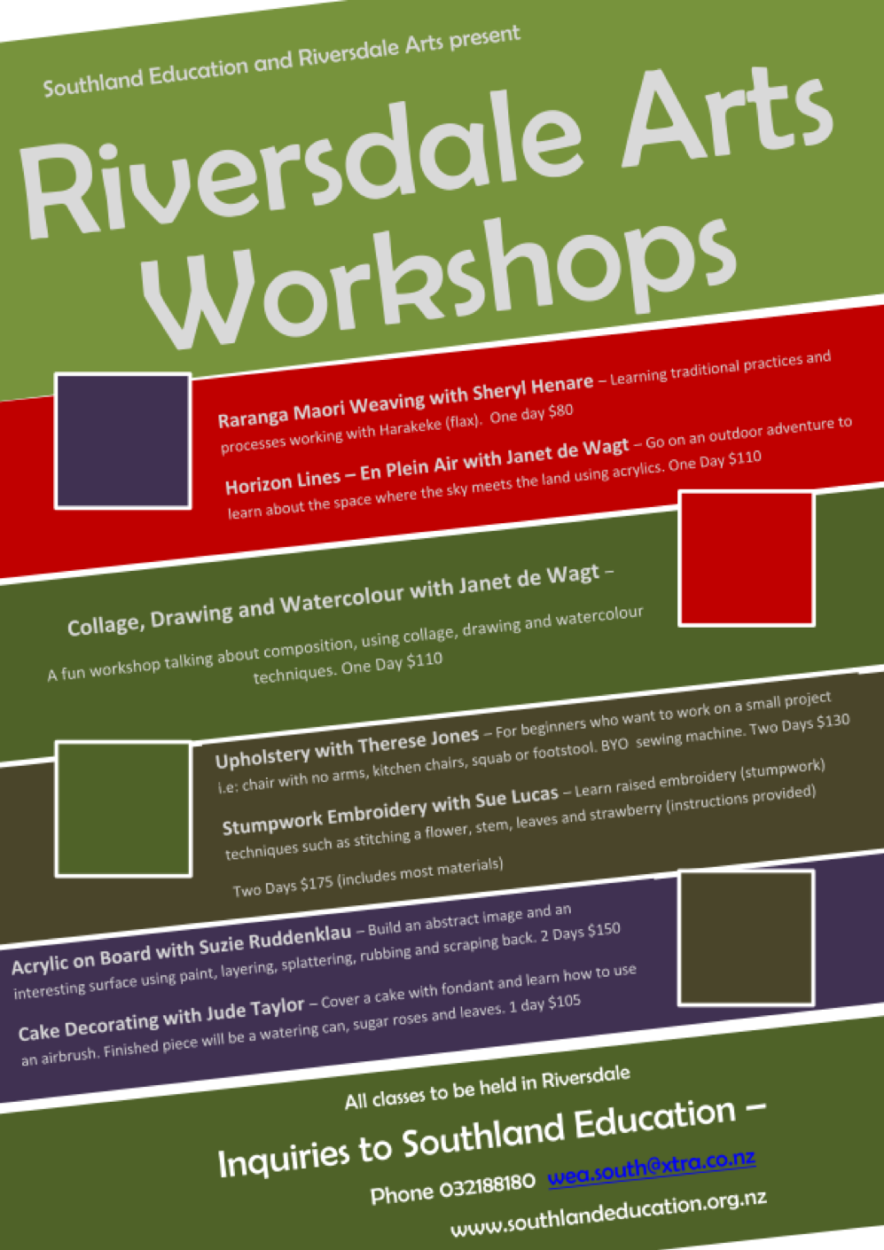 Date/Time
Date(s) - 20/07/2019
11:00 am - 5:00 pm
Categories
Map Unavailable
Mid July brings the annual Riversdale Art Mixed Media Exhibition back to the Southland arts arena. In its 46th year Riversdale Arts Inc have a wealth of experience in delivering a polished exhibition. This year we are delighted to have Ben Foster of Kaikoura exhibiting as our guest artist. Living inKaikoura, Ben's surroundings inform and inspire his practice, using the native wildlife and natural geometrics of the mountainous landscape. Foster's elegant, geometric forms balance between realism and design. With both animal and human forms alike, Foster pairs back natural forms to focus on line, symmetry and scale juxtaposing the natural and man-made in his sculptural works.
Riversdale Arts invite up to eighty mixed media artists from around New Zealand to exhibit inRiversdale's large Community Centre for ten days. We have a large variety of mediums coveredwith Paintings, Photography, Mixed Media, Sculpture, Glass, Pottery, Ceramics, Jewellery and Textiles and the price range of exhibits is varied. We enjoy being able to showcase artists from through-out New Zealand with artworks displayed in the heart of Northern Southland.
Riversdale Arts have their own art rooms which are used by the community for various art and craft, classes and meetings. During the exhibition we run classes with invited artists over the two weekends. Classes this year include Stumpwork Embroidery with Sue Lucas, Upholstery with Therese Jones, Maori weaving with Sheryl Henare-Raranga, Collage, Drawing Watercolour and Horizon Lines/En Plein Air with Janet de Wagt, Acrylic on Board with Susie Ruddenklau and Cake Decorating with Jude Taylor. All booking details for these classes are available on our websitewww.riversdalearts.co.nz and our facebook page.
Also running alongside the exhibition we run a giftshop which sells smaller artworks from the exhibition artists along with work from invited crafts people throughout the region.
Once again we are running our Emerging Artists Award which has a $1000 prize and is open to young artists aged from 13 through to 25 as at 19th July 2019 from the Southland region. Entry is by digital image by 1 June and all details and the entry form are available on our website.
You can't visit the exhibition without calling into the YUM Pop-up café which is run on site by the Balfour Home and School team for the length of the exhibition. Pop in for coffee, lunch and a range of delectable treats.
The Exhibition runs from our Gala Opening night on Friday 19th July, then daily 11am to 5pm, through to Sunday 28th July closing at 3pm. Follow us on facebook or check out www.riversdalearts.co.nz for tickets and further information. Tickets will be available for opening night at www.iticket.co.nz, St James Theatre, Gore and Challenge Riversdale.
Any queries in relation to this press release please phone Jann Robertson, Riversdale Arts Administrator 0276722600 or email riversdalearts@gmail.com